Ups And Downs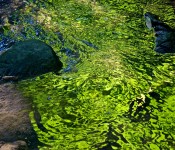 There are many ways to look at life. Sometimes we are lucky enough to see life as a gift given to us and at times as the complete opposite.
Life can be magical or a nightmare from which we can't wake up.
Regardless of how we feel, we are not alone. At one time or another everybody has had those ugly moments, but we move on.
Learning to cope and appreciate the hard times will give us a better understanding of the meaning of life.
There is a lesson to be learn during down times.
Be here and be strong.