My Toronto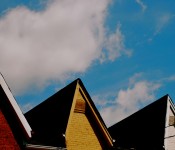 By Carlos.
Coming from a small village back in Chile, moving to Toronto made for a big culture shock for me.
When I first immigrated to Canada, I found myself in a city where people seemed too busy to know their neighbours or to greet you more than once a day. The people who lived across the street spoke a different language, wore colourful outfits and went to church on Sundays.
Not able to speak English, I felt isolated in this new world that was completely different than the one I had known all my life. But this was not going to stop me.
My way of dealing with all of this difference in culture was to follow these simple words: "When in Rome, do as the Romans do."
Now that time has gone by, all the differences I first noticed when I came to this city became what I love about Toronto.
(click to enlarge)