Enchanted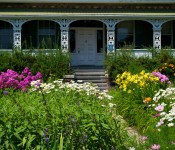 I have always been enchanted by older people; every time I have a chance to establish a conversation with one, I do.
Some time ago, as I walked to the corner store, an older lady about 85 years of age was waiting outside her house and asked me to open a can of tomatoes for her. So I did.
Since that day, every time I pass by that house, I make sure to walk slowly, just in case she needs help again. She doesn't, and sometimes I wish she did.
I often wonder if she is OK. What is her life like? Is she lonely? Does she have family? I just can't help think about that lovely old soul that needed my help.
A couple of weeks ago I realized she is no longer there. The house is being renovated and that made me sad. I hope she is all right wherever she might be.
Today, it's her house; tomorrow, it could be mine.